GCSE Results 2023!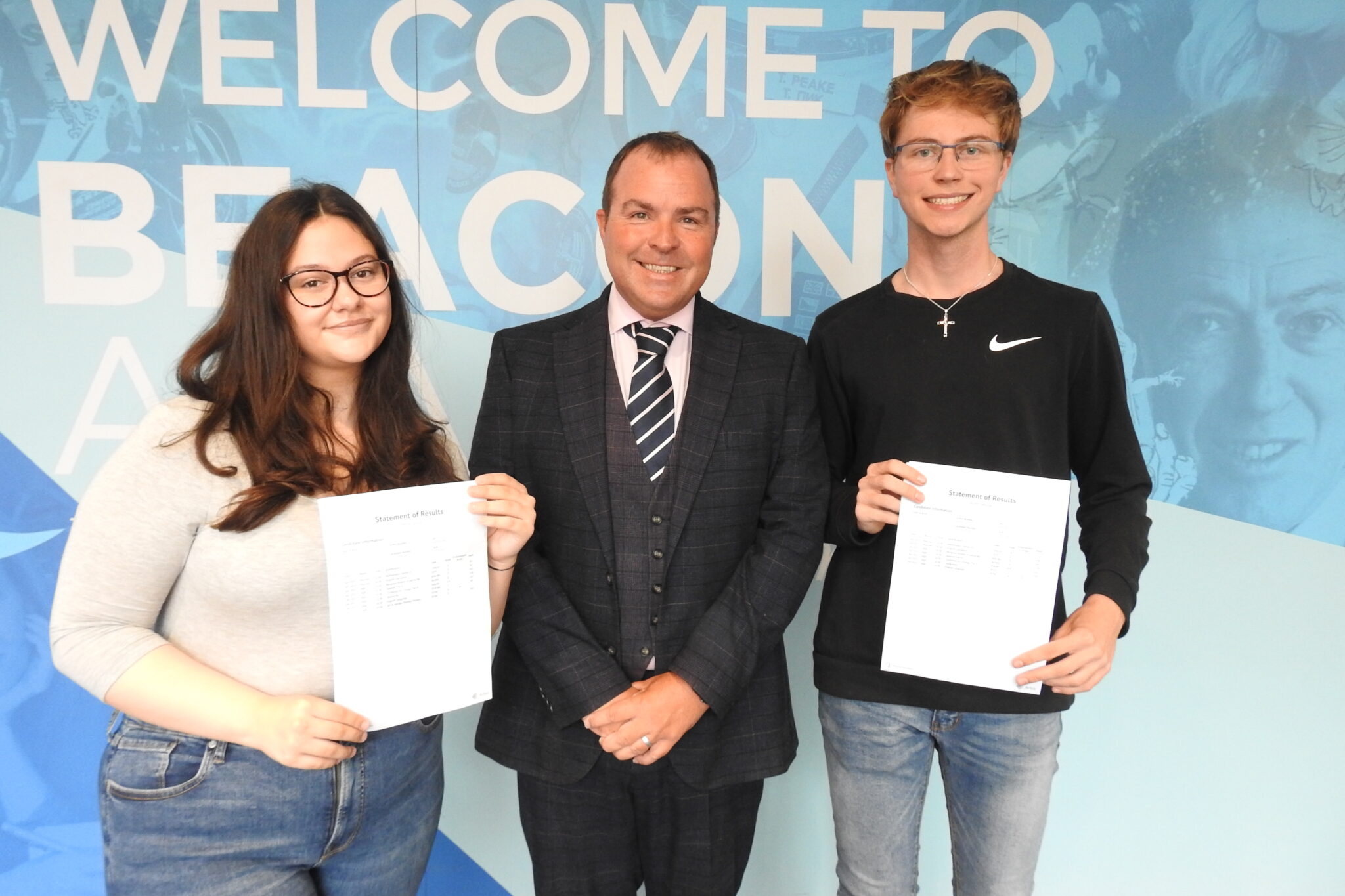 Positive GCSE results were celebrated by students and teachers at Beacon Academy in Cleethorpes. The class of 2023 saw many make progress against their target grades, with a number achieving the top 9 to 7 grades.
Headteacher Jason Thurley said: "I am delighted to see so many individual success stories with students achieving the highest 9 to 7 grades in the full range of subjects". "It has not been easy for this year group because of Covid and they have shown great determination to see it through. "We're proud of them and wish them good luck in the next stage of their learning journey.
"I would like to thank their parents / carers for their support and also wish to thank my staff team for their considerable efforts supporting the students with holiday and Saturday morning booster classes."
One student who had overcome adversity to achieve a "fantastic set of results" was George Harrison.
He was diagnosed with Chrones Disease earlier this year and the Academy arranged for his home to be an exam centre to ensure he could take his GCSEs.
Mum Pip said: "The school's been amazing. They sent work home, were in touch all the time and George could email staff with any issues."
His Dad, Rich, also praised the Academy. "We just want to say a huge thanks for all they have done for George," he said. "They've been so supportive throughout all this." George, still under the care of Castle Hill Hospital in Hull, is aiming to study at Franklin College. His results included a 7 in Maths, 6 is Statistics, 7-6 in Science and 5s in English Language and Literature. "I'm really happy with my results," he said. "They are a lot better than I'd expected with me having months off." Mr Thurley said: "Given the context, George has a fantastic set of results and we are so pleased for him and his family."
George Allen, the Academy's head boy, achieved nine GCSEs including grade 9s in Music and Religious Studies and Grade 7 to 9s in English Language, Maths, Geography and Spanish. He said: "All the hard work has paid off. It's just nice to finally get the results and be happy with them. "Thanks to the teachers who have been so supportive, both academically and personally." He is going to study Music, Psychology and English Language at Franklin College.
An emotional Antonia Petre's nine passes included 9 to 7 grades in Religious Studies and History. "I'm actually most pleased with my 5 in Maths as I did not think I would pass," she said. "I'd like to thank Miss Deamer (curriculum leader in Maths) who has been amazing."
Katie Harrison achieved nine GCSEs including grade 9 in Sports Science, grade 8 in Dance and grade 7 in Re
ligious Studies. She said: "I've passed them all! I was really nervous as I thought I'd done worse than I actually did. "I'm very happy for myself. I'm going to miss this school and the very good teachers. They've given a lot of help and support."
Gabriel Hayward's nine GCSE passes included grade 9 in both English Language and English Literature, grade 8 in Fine Art and grade 7 in History. Nine GCSEs were also achieved by Olivia Carter, including grade 9 in Sports Science and grade 7 in Religious Studies. Mr Thurley was now looking forward to reopening the school to its largest ever number of students and teachers next month.
"The academy is heavily over-subscribed for Year 7 and nearly 650 children will attend in total," Mr Thurley said. "It means a further expanded curriculum and more specialised teachers.
"We are also pleased that a planned open evening for Year 6 students transferring to secondary education in 2024 will take place on Thursday, 14th September between 5pm and 8pm."