GCSE Results News 2021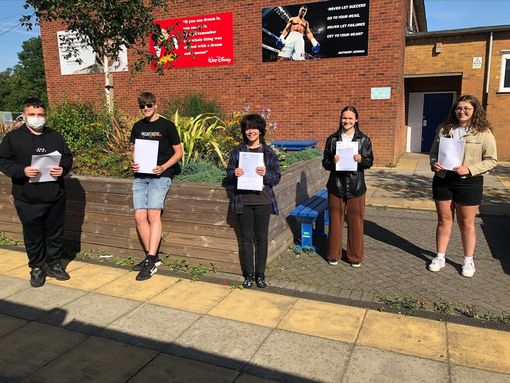 Beacon Academy are very happy with their results. Head teacher Jason Thurley was "delighted" the class of 2021 had made positive progress against their target grades with students achieving the top 9-7 grades in the full range of subjects including English, maths and science.
"It is another strong set of results that reflect the hard work put in by students and staff," Mr Thurley said.
"I am particularly pleased with the strong progress across the full range of subjects including maths, science and the humanities subjects. Our progress in our option subjects was again, outstanding.
"It has been another tough year in education because of coronavirus and this year group of students deserves an enormous amount of credit.
"They have kept going and achieved some great results.
"Staff and students, supported by parents, have worked incredibly hard and I want to thank them all for their efforts. It has not been easy for anybody."
Andreea Draghita achieved 9 GCSEs at either grade 9 or grade 8, including 9s in English literature, maths, history, science, fine art and digital photography.
She said: "I couldn't have achieved these grades without the help from the teachers at Beacon Academy.
"I'm really happy with the grades I've got, I'm going study maths, drama and computer science at Franklin."
Becki Douglass achieved 9 GCSE passes at the top 9-7 grades, including 9s in maths, science, history and grade 8s in English literature, engineering and performing arts.
"Beacon Academy really helped me to get the grades that I have received, it's a very good school," she said.
"I'm really happy with my grades and I'm now going to study history, drama and music a levels at Franklin."